This is our newest addition born November 21, 2009.  Her name is Beowulfs Curious Georga of Nottinghill AKA Monkey.  She is the true meaning of a "red head".  Lots of fire and brains too!  Keep checking back to see how she is progressing.  Thank you to Beowulf Mastiffs for allowing us to have such a beautiful girl!
Monkey has now finished in the show ring and is in the process of starting her second career at motherhood.  Monkey is a beautiful and sweet girl.  She is outgoing and absolutly loves everyone that she meets.  I know she will make a great mother. 
See her testing click here

Show Record    
Sept 12, 2010  BOB WB BP          
Ms. White  1 pts         
October 31, 2010
Mastiff Booster  WB
Keke Khan  2pts
December 10, 2010
Mr. L. Harfield  1pts  WB BOW
December 11, 2010
Ms. W. Paquette  2pts  WB
December 12, 2010
James Frederikson BOB, BOW  2pts
February 19, 2011  Ontario Breeders Markham
Fred Dewsbury  3pts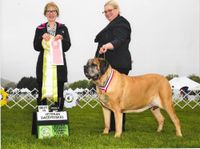 Monkey in her final year won Award of Merit and Best Veteran at the 2019 MCOA US National Championships.
Ch Beowulfs Da Vinci's Code

CH. Beowulfs Ropin The Wind

CH. Beowulfs-Brijas Smuggler

Ch Beowulfs Jamacia Me Happy

CH. Beowulfs Livin Out Loud

Ch Beowulfs Attitude W Lattitude

CH. Beowulfs Dancin In The Rain

CH. Eisens Tazzis Justabout Perfect

CH. Groppetti G'nghis Razzmatazz

Ch Beowulf Justice Otacontrol

Ch Beowulfs Jamacia Me Happy

Ch. Beowulfs Man About Town